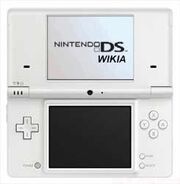 Upcoming games
None at the moment
News and Updates

March 27th 2010 The Nintendo 3DS has been released and has outdated the Nintendo DS. A new era of gaming has started.

December 17th 2010

---

Finally cleaned up pages and put the new Featured Game, Article and Company up. I'll try and make more pages for newer games and replace the "Upcoming Games" heading. - Fawhad

November 21st 2010

---

DSi LL has been released in Japan

October 28th 2010

---

We now have extra boxes. Scroll down to view Featured Game and Featured Company

September 24th 2010

---

Today we hit 100 articles! Thanks to all contributors.
We also got a brand new logo! Leave your thoughts on the talk page.

Featured Article

The Wii (pronounced "we") is a seventh generation (which also consists of the Xbox 360 and PlayStation 3) video game console created by Nintendo and a successor to Nintendo's previous console, the GameCube. It is Nintendo's fifth major home console, not including the Color TV Game systems. The console was initially released on November 19, 2006 in American shores, was released shortly thereafter in other countries, and became the leading console in the U.S.A., Europe and Japan. (full article...)
Featured Game

The Legend of Zelda: Spirit Tracks is a Nintendo DS video game announced during Nintendo's 2009 GDC press conference. The game's main premise is trains. The protagonist Link will construct train tracks and fights through hoards of enemies and solve challenging puzzles in dungeons. The game will be released in the end of 2009.

Featured Company

Nintendo Co., Ltd. is a multinational corporation located in Kyoto, Japan founded on September 23, 1889 by Fusajiro Yamauchi to produce handmade hanafuda cards. By 1963, the company had tried several small niche businesses, such as a cab company and a love hotel. Eventually, Nintendo developed into a video game company, becoming one of the most influential in the industry and Japan's third most valuable listed company, with a market value of over US$85 billion.
New Releases

Retail games

Bookworm
Alvin and the Chipmunks: The Squeakquel
Kamen Rider Dragon Knight
Might and Magic: Clash of Heroes
James Camerson's AVATAR: The Game

DSiWare

Littlest Pet Shop
Miami Night
Bejeweled Twist
Yummy Yummy Cooking Jam
Master of Illusion Express: Matchmaker

Help Topics

Pages in need of cleanups

Here we will post pages that require major cleanups and editing. Some may require simply adding pictures, others may need more info added. Please help the wiki by contributing. Pages that need cleanup are as follows:
DSi XL has recently been released so it will need more info and pictures, Call of Duty 4 (requires less red-links),

Where to start
Community content is available under
CC-BY-SA
unless otherwise noted.